Discussion Starter
·
#1
·
So, I've been looking for a more practical vehicle than the
eS2
(>=4 doors&#8230
and more nice/comfortable than the Pathfinder (AC, lack of camo primer paint&#8230
to use as a daily driver. I don't put many miles on cars working from home mostly, so I'll see maybe 5K miles per year probably spread across 2-3 cars. If it was in the cards, a 20VT b4 avant would probably be ideal. Perhaps someday... A 20VT c4 avant, of course, would also do. The 20VT CQ is nice, but with the 20VT urq build coming along, there is only room for 1 coupe in the stable.
I keep a fairly close eye (I'm no match and concede supremacy to HybridHatch, though…whom I think has RSS feeds coming into his neurons and senses deals before they are even there with a sort of spidey sense) on the local online classifieds as there are quite a few good deals that pop up now and again.
A month or two ago, a 95 S6 popped up on the classifieds and was described as 'needing engine work'. I'm game to check just about anything out, and for the price, it was worth a looksee. It turned out to be crashed valve for unknown reasons, but it was cheap enough, so I towed it back home with me. Was this the new daily I was looking for? It was kind of rough, but pretty complete and bone stock. And the venerable green/ecru color combo. It has some parts I could use for the urq project, so it may be smarter to just part it out. But with no cylinder damage, it could be rebuilt fairly cheaply as well, as I have a few spare 20VT heads in the shop. Hmmm…what to do?...
Well, after sense was knocked into me, the car is now being parted
here
.
So, also during this time, there had been another local urs car for sale, a pearl/black 1993 urs4 with only 90K. This one was also a non-runner, with the diagnosis from the previous owner being that one of the spark plugs stripped out of the head. It was described as being in great condition with only a small dent in the PS front fender and some discolored wheels. All it needed, he said, was a heli-coil in the head and a new coil…yeah right, I thought to myself. And for the original price it was listed at, the pictures that were provided, and the possibility of there being some significant carnage, I didn't take much interest in it. It also was nearly an hour away. Shortly after I picked up the S6, I was talking to Hank one day and this car came up in conversation and he mentioned that his dad John wanted him to go check it out for him and I said I had seen it but wasn't too enthusiastic about it.
Here are the pictures that were provided in the listing.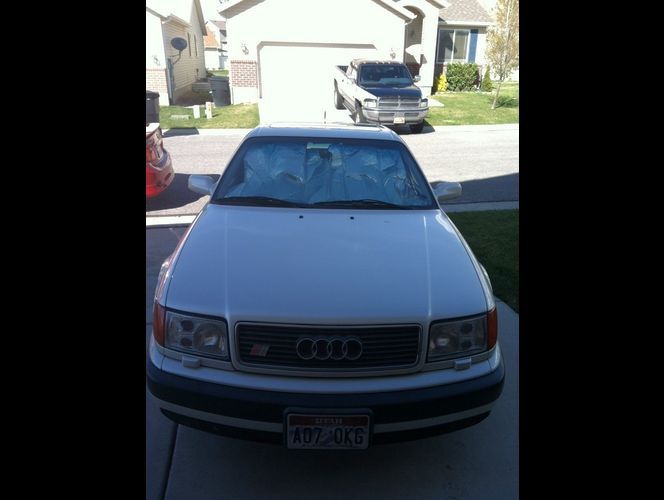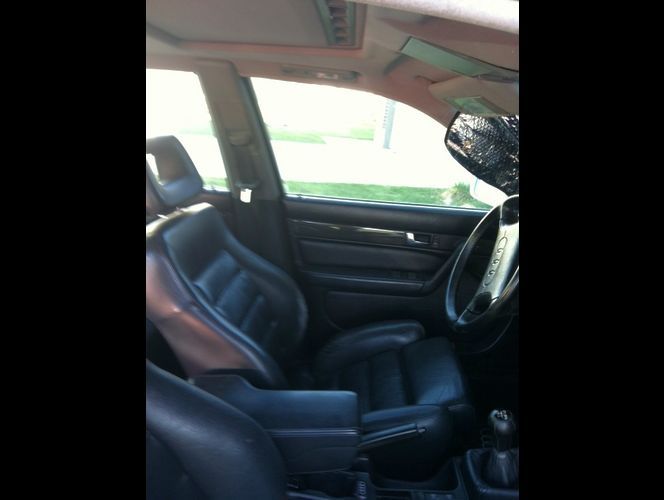 A set of pictures that is just enough to get you curious and maybe a little bit excited.
So a couple weeks go by and the urs4 pops up again at a lower price, and I thought, what the hell…why not just go take a look. If nothing else, it's a first-hand data point for the memory banks. I get there and poke around the car for a bit. It is in pretty good shape overall. The interior is nice, with only some color fade on the DS bolsters. It had been sitting for nearly a year, and thankfully with a sunshade to help preserve things a little bit in the desert sun. Unfortunately, I could see that the daily use of sprinklers (hard water) had taken their toll on the DS paint and windows. It is also likely why the wheels were discolored.
Not a lick of rust anywhere, except for the one piece of door trim rubber, where the rust is coming from the metal strip inside. The other rubbers/plastics were in surprisingly good shape, though extremely faded from the exposure. The rear DS tire was flat and beyond repair. I noted this so that I could bring my urs6 spare to use while rolling onto the trailer. The battery had been removed to put in another car, so electrical issues were a possibility.
The engine bay was complete and this car seems to be completely stock as well. I must say that I do prefer getting these virgins before other 'mechanics' have had their way with them. But it was still a little more than I wanted to pay, not knowing if there was going to be a complete long block needed come real diagnosis time. I didn't have a borescope, so I couldn't assess much inside the cylineder. So I made a fair offer for the car, not knowing exactly if it would be fixed and driven, parted, or passed on to someone else. He accepted and I made arrangements to tow the car back to SLC.
Poor little Pathfinder has to work so hard sometimes. I must say that I do love this thing. It has seen more glorious and beautiful days, but it is kind of like that old pair of shoes that you can't throw away because, more than anything else, they still just 'work' like they're supposed to. Maybe they have holes, blown out Air™ pockets, shoe goo'd outsoles…utilitarian.
The Little Pathfinder That Could
With a rented u-haul trailer ($49) and pocket full of cash, I embarked across the desert (a bit of literary embellishment here). I grabbed a HF hand winch on the way so that I could crank it onto the trailer. It took a while, but was definitely required to get the job done. And at $18, I got my money's worth and it didn't even break the first time that I used it. It was a nice non-eventful drive back across the desert and I nestled it back into a spot for more thorough examination. I pulled the battery from the urs6 parts car, which was conveniently in good shape and needed to find a new home.
Rolling Her Off
Could use a cleaning…
Spider webs…
I wanted to get a better look at things so I pulled the valve cover and all of the plugs. It was interesting that the gasket was fully hardened to brittle plastic in areas, especially around plug hole #4, where pieces of it were actually missing.
Broken coil…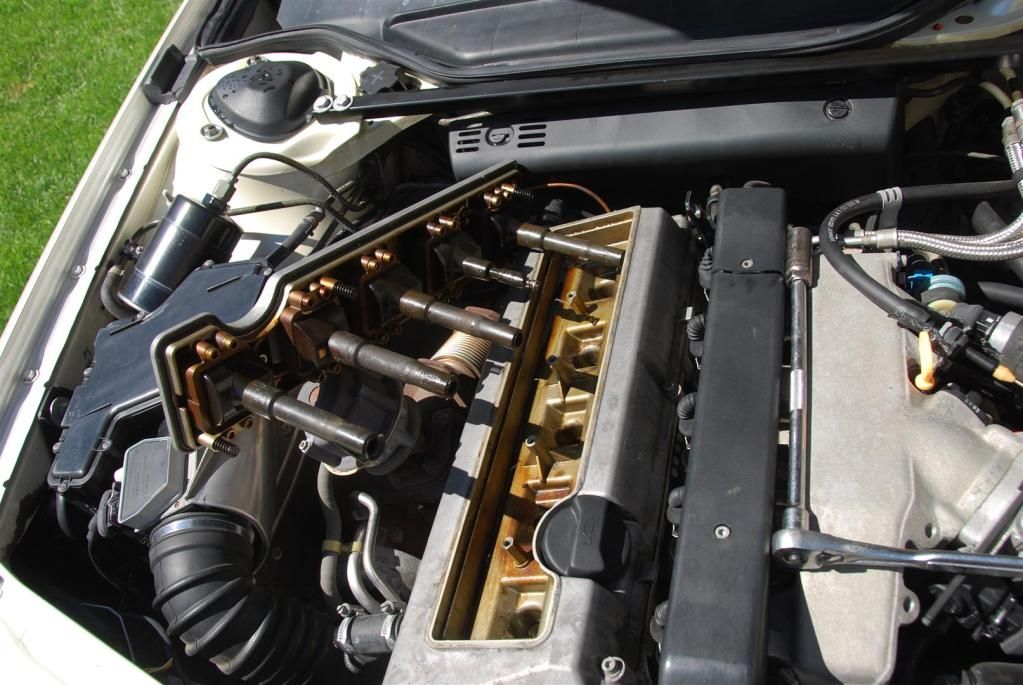 It may have just spit these things out…
I can't imagine they would have worked too well, given the picky nature of plugs in this engine.
I then modified my vacuum to allow me to get down in the spark plug hole to hopefully remove anything that may be in there.
Visually, nothing was apparent. Once this was done, I checked compression in all cylinders except #4, which was obviously not an option at the time. This was done on a cold engine (that had not been run in a year) with open throttle plate at .85atm.
1-155
2-160
3-150
4-TBD
5-160
To me, those seem like pretty good numbers for a low mileage AAN, especially considering the altitude.
So, then, I figured I would try to do the next repair for the next known problem-stripped spark plug hole in the aluminum head. I did quite a bit of research looking into what people have done to do these kinds of repairs and the results. Although most everyone recommends the head to be pulled to do this to avoid getting shrapnel into the cylinder, there were plenty examples of it successfully being done with the head in place and by taking the right precautions. And sometimes pushing the envelope needs to go both ways. There is a think called overkill, and it is what destroys budgets.
I like to know my boundaries and what you can and can't get away with. I want to know how bad something can be and still work, just as much as I want to know how something good can make something work or work better.
Could I have just torn the motor down and rebuilt it for another 100K. Put a new head in with no insert. Sure, you could do that…I could then replace all of the other unknown items, too. In fact, I'll need to think about t-belt service as I wasn't able to get that answer from the previous owner. I may be on borrowed time.
Or, can you spend $30 and a couple hours of time to get the engine back up and running and have no issues. Sure, I may not want to go boost crazy with the insert, but the reality is that in many cases it can be a stronger setup than the original because the smaller threads are all steel and the aluminum threads get more shear area from the larger diameter of the newly cut threads. One thing at a time. The car was practically on the scrap heap a week ago.
When I initially thought of Helicoil, I was envisioning my previous experience with them, which was largely replacing stripped derailleur hangers of early 90's mountain bikes as a teenage bicycle mechanic. They were coil springs with a tang that you could wind in and snap off. So I didn't realize Helicoil also has other insert products, namely a spark plug repair kit with solid inserts. Other companies have similar products, too. But I could get this kit from O'Reilly for $30 and see if it really could be that easy to get this fixed.
Repair Kit…
There is a tap, an expansion tool, and inserts of 3 lengths. The longest ones are the correct size for the 20VT head. Tap the new threads with a wrench. This went surprisingly easy. I then vacuumed out the bore and used compressed air to flush any remaining chips out. I alternated a few times just to make sure I had everything I could out of there. I figured that an aluminum chip or two probably wouldn't be catastrophic, but without seeing the plug that came out of there (and intact eletrodes) it was hard to say whether or not something else could be in there.
There will be chips…
Minimizing the damage…
After a vacuum and flush session…
A pretty clean head otherwise…
Then apply some RTV to the OD of the insert and thread it in place with a spark plug. Expand the top of the insert with the tool and wait for the RTV to cure. I left the valve cover off during the test, as there was no use putting things back together if it all still needed to come apart. So the next morning, I set up the compression tester in #4 and cross my fingers. I almost didn't want to look at the gauge.
4-165
F yeah! &#8230;<quickly goes to reassemble everything for test firing> I put a new valve cover gasket and some used F5DPOR's in. I used the coil pack cover assembly from the s6 parts car (with a new coat of paint, of course). Then came moment of truth #2&#8230;and the gas wasn't THAT old, right? Couple cranks and she fires right up and settles into a nice idle&#8230;but there is some smoking out of the exhaust. But it hasn't run for a year, so that may just go away. So I kind of just let the car idle for a while and keep an eye on the vitals&#8230;water temp&#8230;oil pressure&#8230;all look great&#8230;smoking mostly went away during this initial running. There nipple on the coolant tank was cracked and was weeping at operating pressure. I swapped in the spare tank from the S6 parts car. Man, that is coming in handy.
Brittle nipples…
And now that it is running, I should get this spare wheel taken care of. And the rest of the tires on the original wheels were pretty shot anyway. I've got some options…Let's see, what do we have hiding back here…yeah, let's try those. Tires are fair. Perfect for summer, right? I picked these up a 6 months to a year or so ago on the local online classifieds as well. A full set of 5 OEM Ronal Ti package wheels. They fill out the arches nicely, but really show the excess ride height of the OEM suspension. This thing could blow up in 5 minutes for all I know.
So over the next week or so, I took the car out on small excursions, each time venturing farther and farther from home. I wasn't seeing any smoke at startup or during idle anymore, but once driving for a mile or two, or more eventually, smoke would make an appearance and I would usually limp back home wondering what the problem could be. I hooked up VAG-COM to see what codes were being thrown and to turn off the airbag light. O2 control limits or something. Hmm…at first the O2 sensor was unplugged at the firewall, due to me messing with the coil plugs earlier. I plugged it in and am still getting the O2 sensor fault, so I will try another sensor and see if that fixes it. And I can't access the airbag controller, despite being able to access the HVAC module and ECU. Hmm. Any help there?
A little VAG-COM action…
Well, I've taken it out enough that I believe that I have solved the smoking problem as it has mostly subsided now. I still smell a bit of hot/burnt oil, but think it's still just stuff burning off from sitting for so long. I've put about 100 miles on the car so far in these shakeout drives. I even made it all the way up Big Cottonwood Canyon and the car is running pretty well. I was driving 'spirited' and the road is basically 4K vertical rise over about 12 miles or so. The ride and handling is great, except the stock suspension is pretty soft. It is smoooooth. The clutch was a little funky early on, but is working itself out. It is pretty stiff, though. I'm not used to the workout. Even stiffer than the SPEC Stg3 in the CQ.
Drive up to Brighton…
Cooling off and checking the fluids…
And while I had it around, I installed the OEM CD changer from the S6 parts car into the S4, knowing it had been pre-wired for it. It was a simple 15 minute installation, but I did need to irreversibly cut the carpet. I figured I could find a replacement if I needed down the road if the changer goes away.
Pre-wired connector…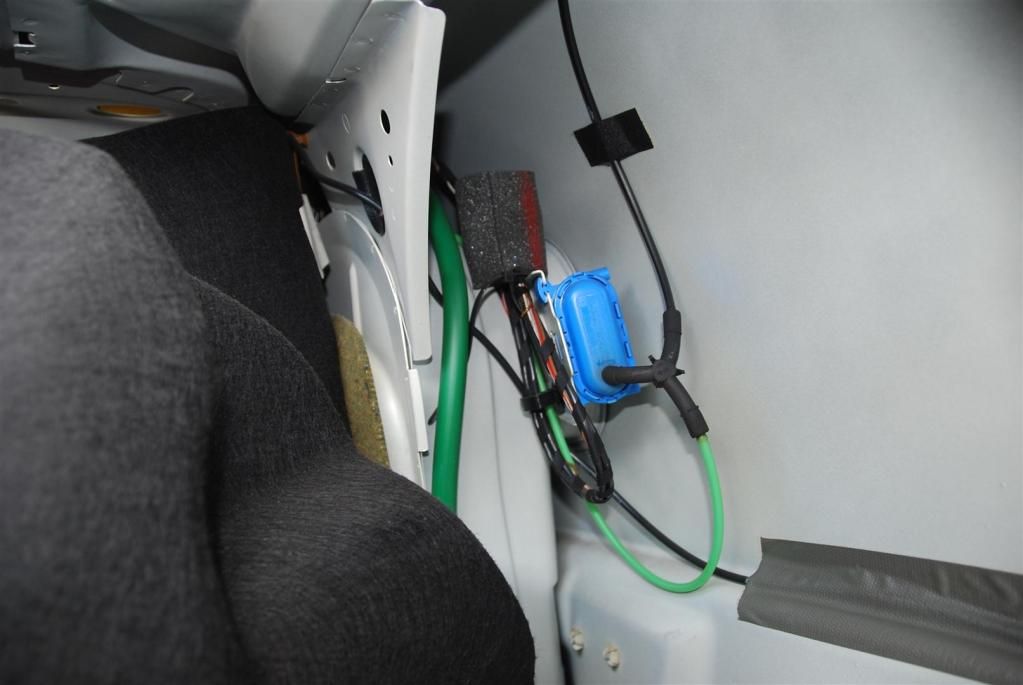 Installed…
Now that it is running reasonably well, it is time to clean this puppy up a little bit. Simple wash of the paint and applied some Adam's VRT to the rubber and plastic. It really brought it all back to life. Reminds me of stroking the trim and bumpers in the hot, humid Pennsylvania sun on my old Mk2 GLI 16V with some good ol' Armor All.
Blackening Seasoning…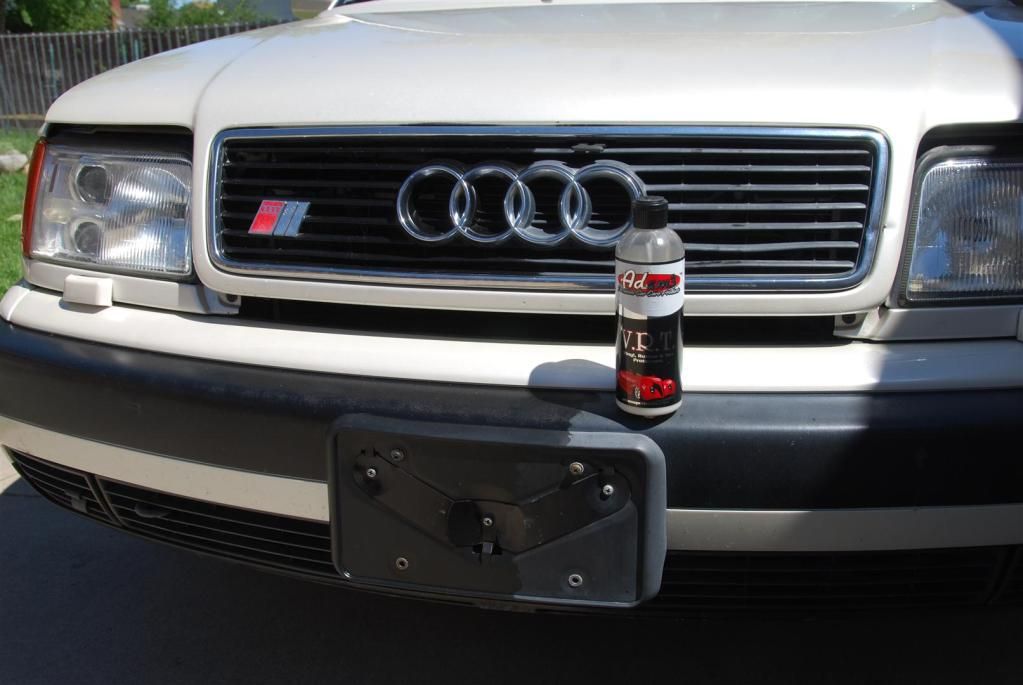 This angle makes it look less like 4X4…
Freshly cleaned bay….
It's amazing what a quick power wash with some Simple Green will do. Very little elbow grease required. And a little VRT.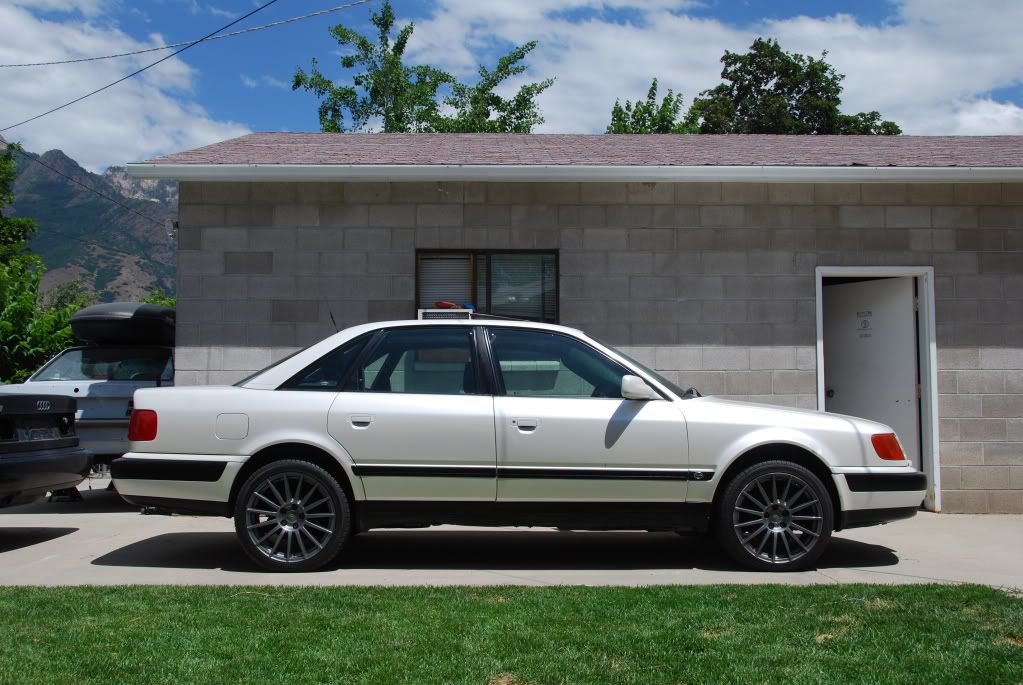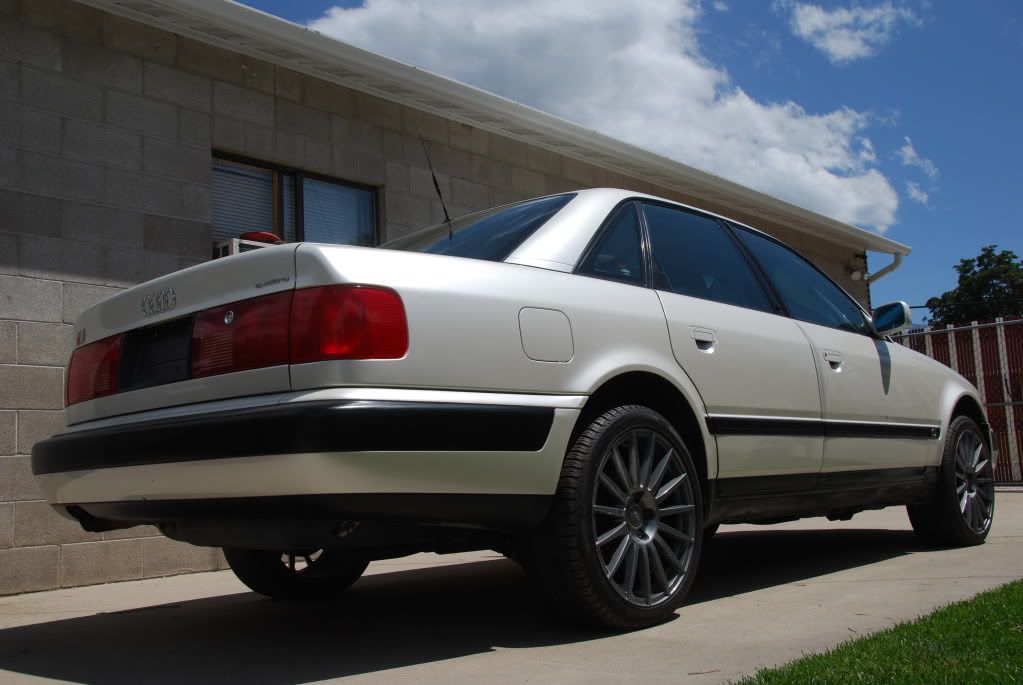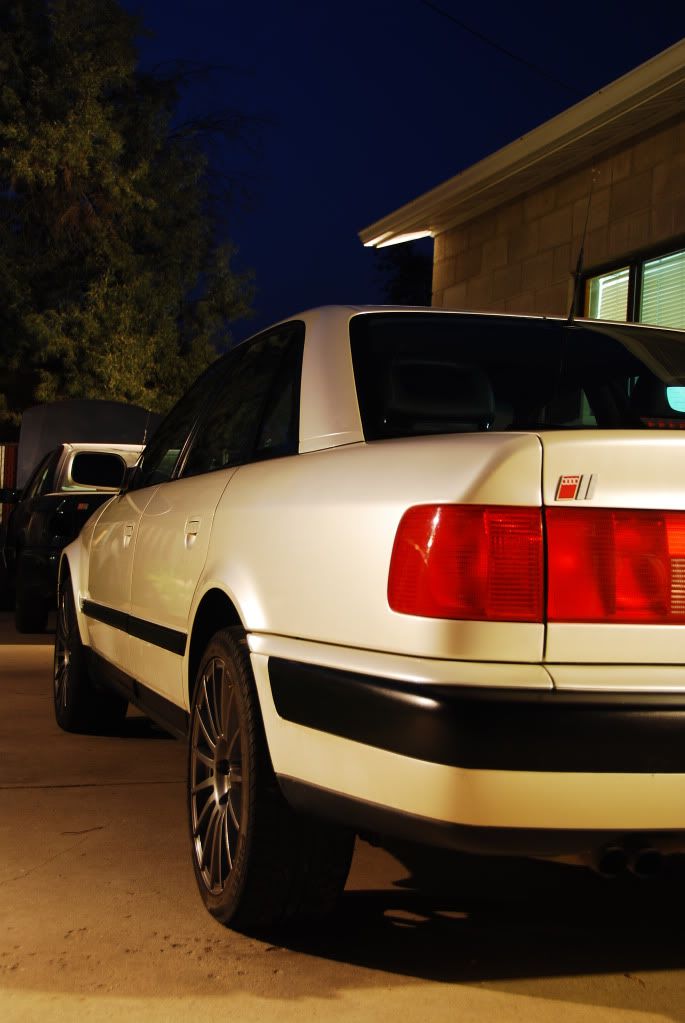 Some interior shots...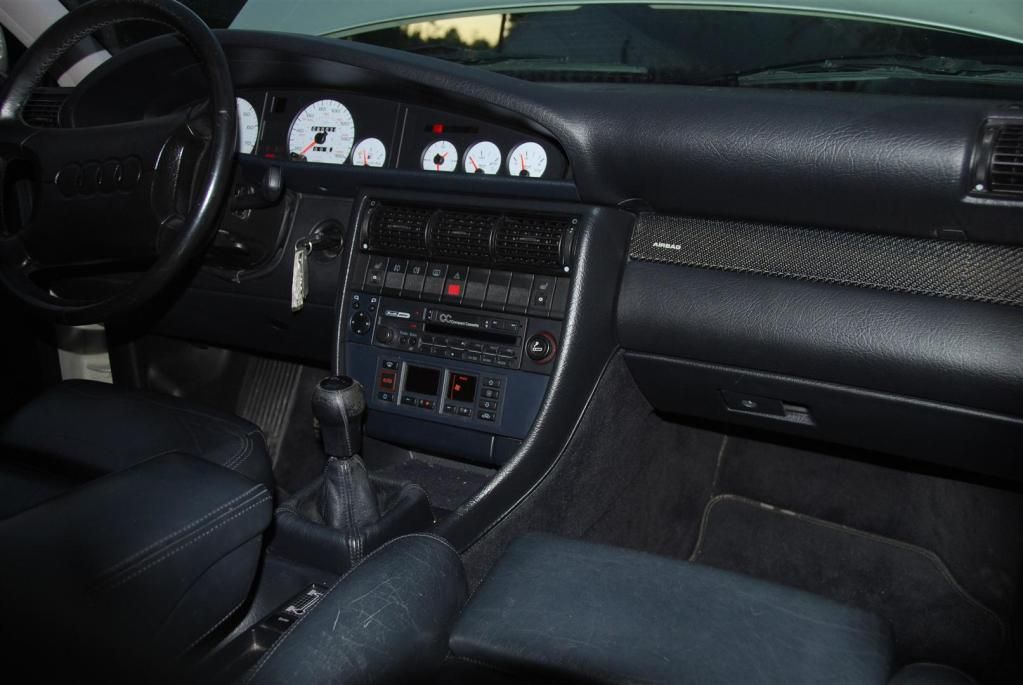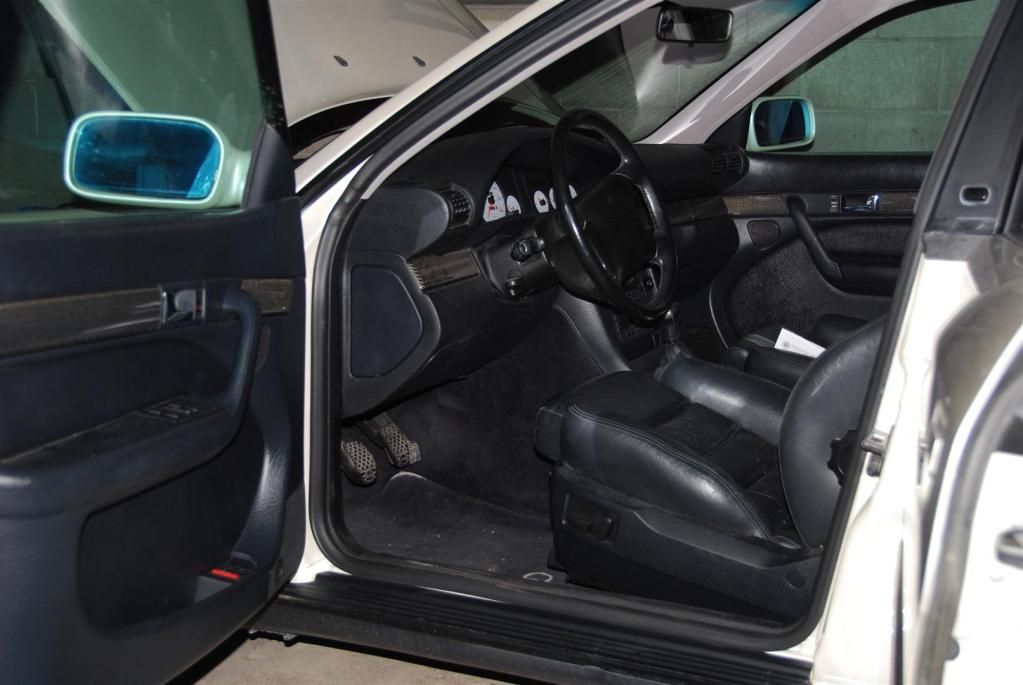 Some evening wrenching…
I also ordered some Leather Magic leather conditioner and dye to tidy up all of the black leather I've now got to take care of. 3 car's worth. And the plans for now are to keep this car stock and reliable. I will need to do a full service now that it appears to be a runner again, so that is first priority.
So for now, the urs4 will take the place of the eS2 while it is off the road for some much needed finishing touches on the build. The little leftovers that never got finished…Painting the old battery tray location…strut bar…repaint a few panels and bumpers. Then it will likely be moving on to a new home so I can focus on the other
coupe
which really needs some love at the moment. So for you interested parties, start saving your pennies. I will deliver to BBQ2012.