Discussion Starter
·
#1
·
Took delivery of my new project car today. (Big thanks to Haydn for helping deliver it!)
Bought this car to replace my current 90TQ daily driver. (Bigger thanks to Marc S for the great deal!)
Goal: Put it back together (20vt) with stock parts laying aound the shop, for engine manangement I felt the IIc was the best choice. This will also be my test platform to learn the 034 software, before my main project is finished (aka 650hp 20vt Coupe Quattro.....Yeah the one I've been building for a 100 years). So there is actually two goals build a cheap (but bad ass) daily driver and become a master 034 tuner :wink:
PS the item in the second picture sealed the deal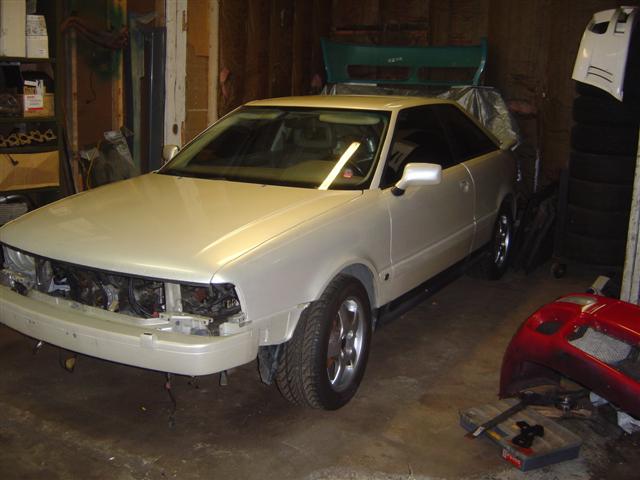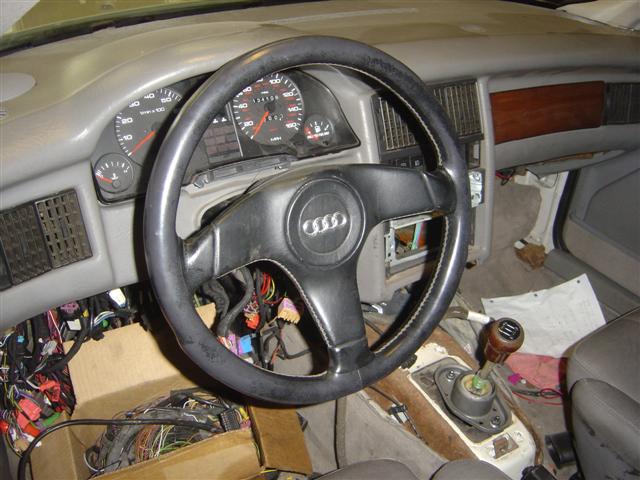 Posted: Sun Dec 10, 2006 3:21 am
Small update:
Tackled the gauge faces tonight and I like how they came out a lot!!
Stock: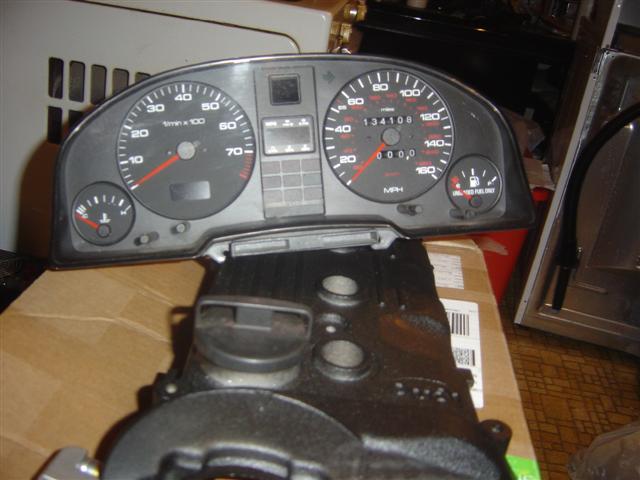 Shock!!: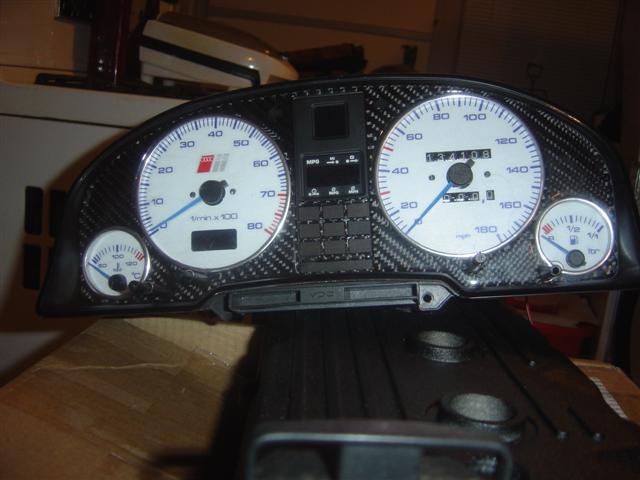 Tested faces for lumination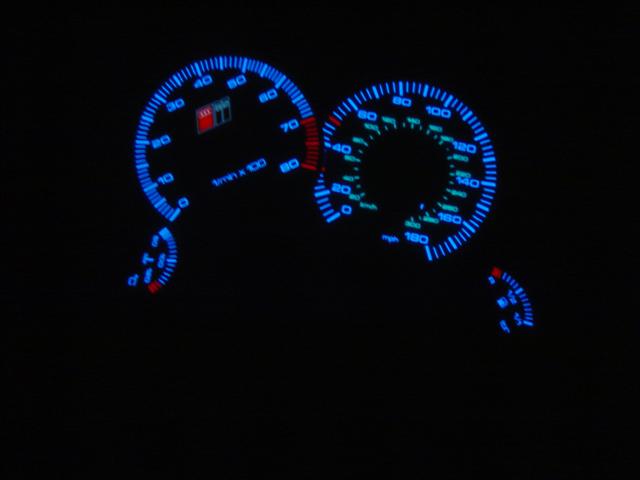 Carbon back plate and Alloy Rings: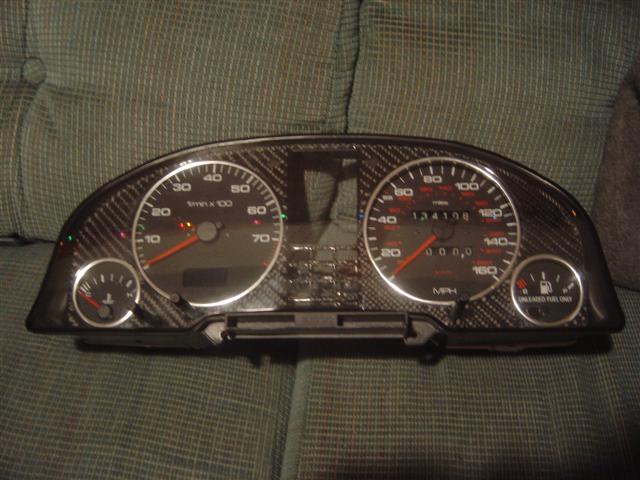 Removed faces:
Installed new face and modified needles: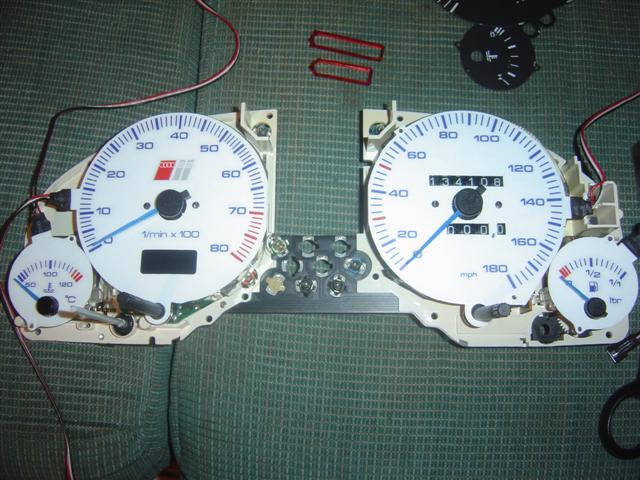 All together with Blue LED back lights: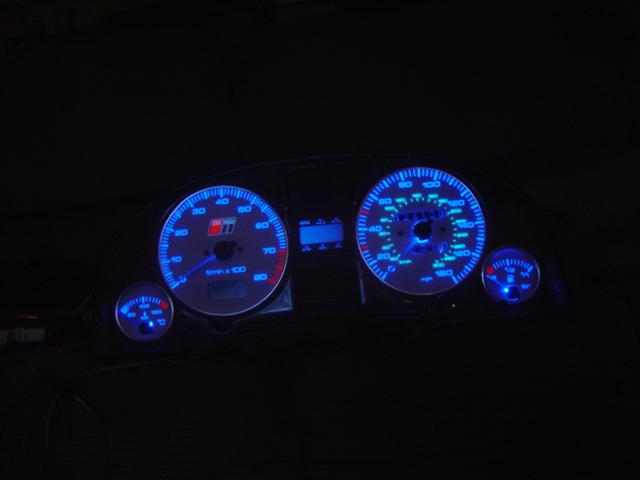 Posted: Mon Jan 22, 2007 6:33 pm
My rear bumper came in today, I'm pysched it's in good shape and has the brackets. Even though I'm not sure how the brakets bolt to the car they seem different than the US three bolt set up iirc.
Posted: Tue Jan 23, 2007 9:27 pm
Update: went to the garage to catch up on servicing my 90TQ and finish some small stuff. Instead I used the mess of parts as a reason to pick up and organize. Biggrin
Bolted on the core support and cut the center piece to fit B3's cross over piece. Also put the B4 hood and RS2 headlights on. In the last pic I kinda chuckled on how funny the rims looked on there.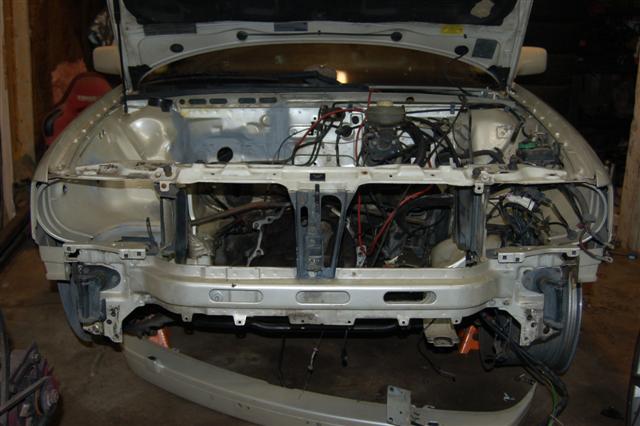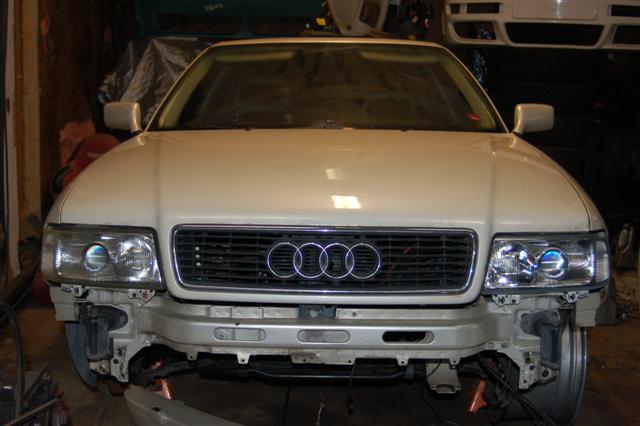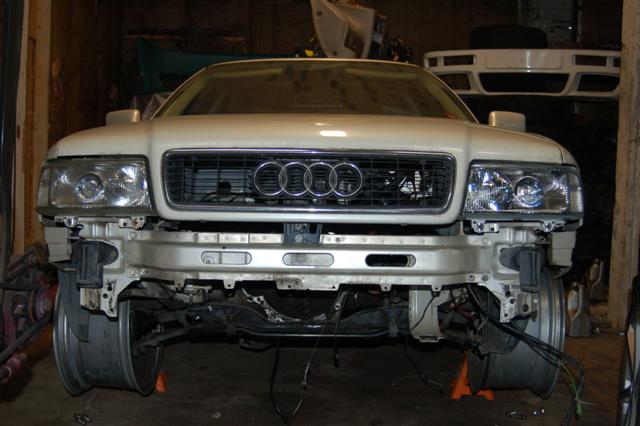 PostPosted: Mon Feb 12, 2007 12:23 am
I spent most of the weekend helping out friends but did take a little time to get my coils ready to bolt in and Adam stop by and dropped off the coil pack cover for my AAN valve cover. Thanks Jeff and Javad for helping me complete my set of coils and Adam for driving that up to me. Cheers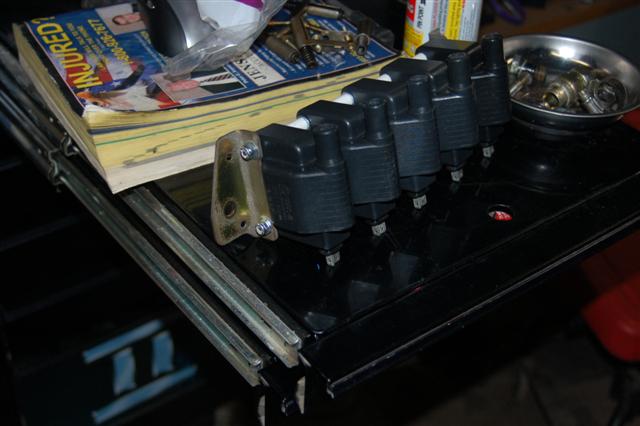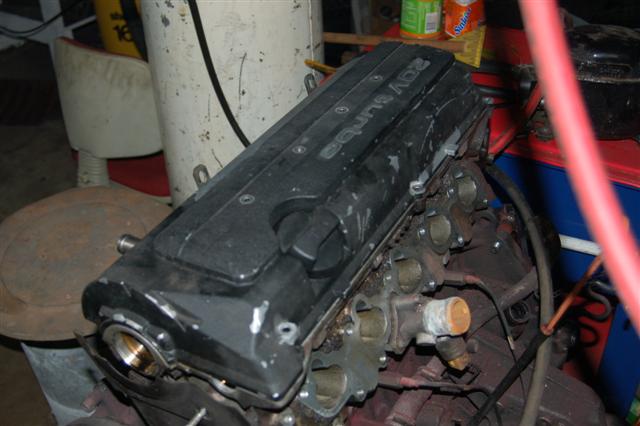 Posted: Tue Apr 10, 2007 9:12 pm
ok small update:
First thing is I got some meaty tires for my 17X8 Hock R's 255/40-17's no idea if they'd fit so since they're 5X112......hub conversion time. Since I needed 5 lug rotors...brake conversion time LOL Biggrin
Personal note What a PIA to mount the 255's with an old Coats 4040!!!!
Gott Rubber!!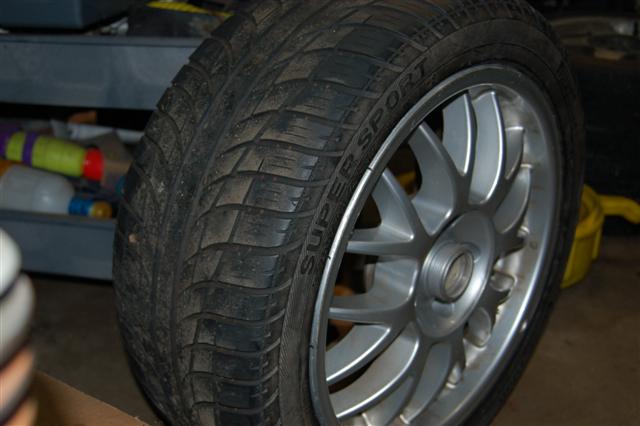 The parts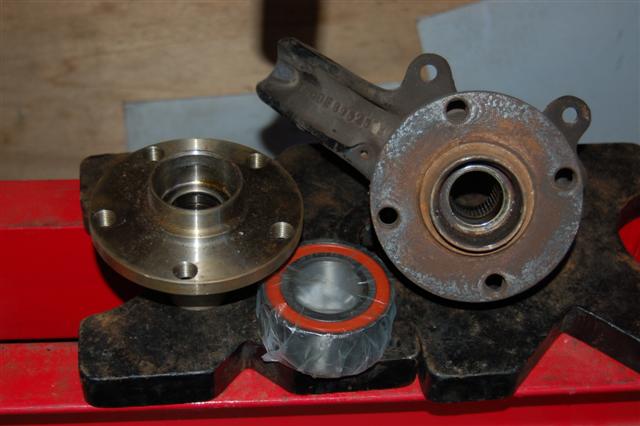 Pressing out the hub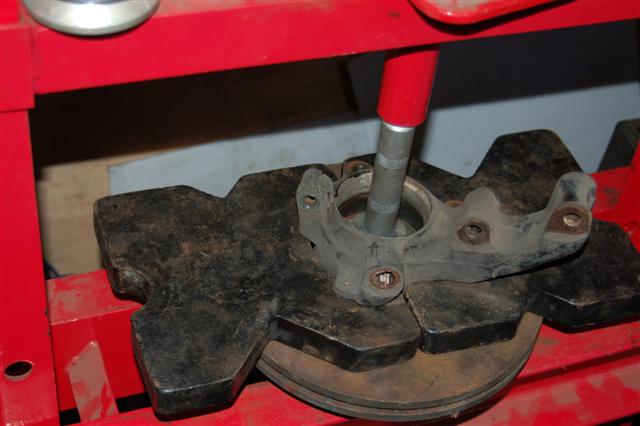 Pressing out the bearing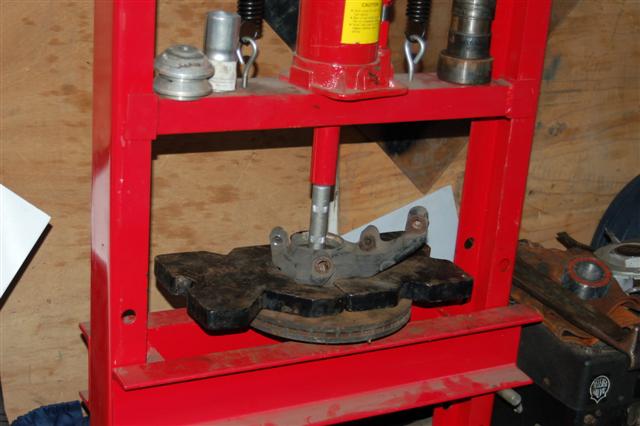 Blurring shot of pressing the new bearing in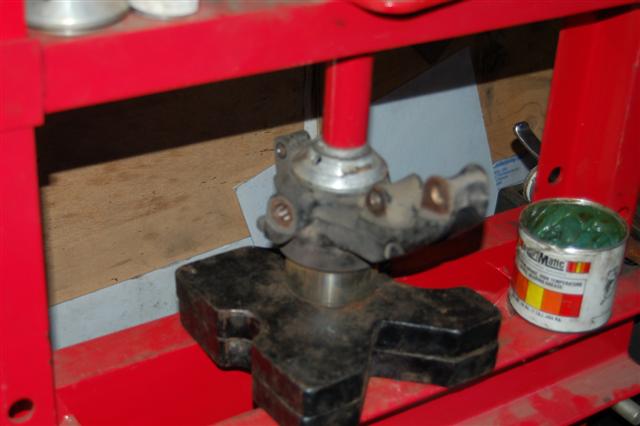 New 5 Lug knuckle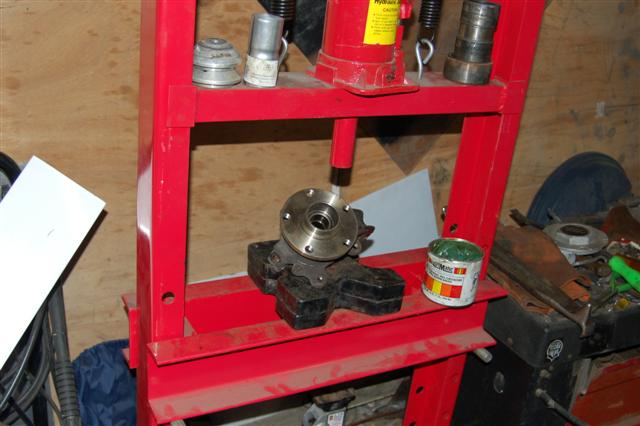 Caliper fit the exactly the same with bilzcat1 adapter or RS2 brackets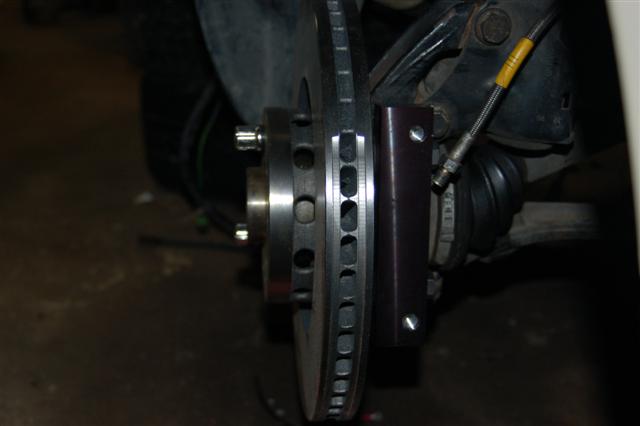 HOLY SHIT that caliper looked big once bolted on!!!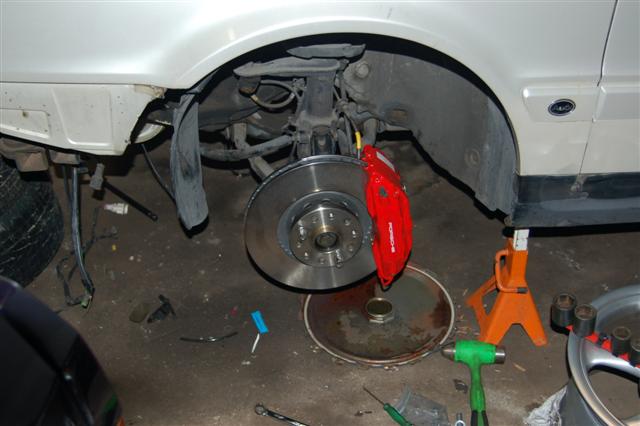 Just love this pic, I've been waiting a long time to see it!!
October 9th 2009
Small update
Well I have to laugh reading about my original goal for the car. No many people no this but the whole stock parts thing didn't last a week. I bought another GT35/40R, log manifold, 034 intake manifold, ect ect it got out of control fast but no progress was again made
I did how ever get a chance to learn more about tuning the 034 ecu. With dens car up and running it didn't take long to get a hang of it. In fact the street dyno was decent enough that we really didn't too much more power having it on the dyno.
But here's where I started to get very torn. Den's A4 1.8T w/3071 was fast, I mean it really hauled ass and it was only a little 1.8T making 350whp on 93 fuel. A couple other interesting things too: It's very driveable and the car handles well. Anyways den and I were talking and he mentioned wanting to build a built 2.0L. I told him imo the best way to go if your gonna use the 92.8 crank is a tall block.
I spent a lot of time thinking about this set up because the goal for my black car is to use a tall block. But I'm worried I won't like how the heaver 92.8 crank revs. So I decided to build a 2.0 tall block 16 valve turbo for my cabby. This would hopefully help me decide before getting buried in a project that I wouldn't be happy with. Except it lead to more thinking about my daily driver coupe project. Lighter nose better handling not the fasted car but hopefully 450 whp on pump would hold its own. Especially if it handled a lot better!! Started thinking about tracking it and it been mentioned to me that the front mount radiator really helps this. Well guess what happens right in the middle of this? I find a great deal I can't pass up on and it's exactly what I wanted, already built, dyno'd, tracked, and proven in my book. I ended up doing a test fit tonight looking for small issues before I went too much further.